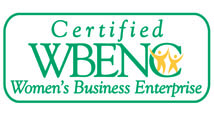 MB Piland has earned certification as a Women's Business Enterprise by the Women's Business Enterprise National Council.
"We're thrilled to have achieved this certification," said Martha Bartlett Piland, president and CEO.
"Many socially-conscious organizations want to build the community by working with women- and minority-owned businesses. This certification gives them absolute assurance that our operations and practices have been carefully screened and that we are who we say we are."
WBENC Certification validates that the business is 51 percent owned, controlled, operated, and managed by a woman or women. To achieve this certification, women owned businesses complete a lengthy formal documentation and site visit process.
WBENC's world-class certification is accepted by more than 1,000 corporations representing America's most prestigious brands, in addition to many states, cities and other entities. WBENC is also an approved Third Party Certifier for the United States Small Business Administration (SBA) Women-Owned Small Business (WOSB) Federal Contracting Program.
WBENC Certification gives women owned businesses the ability to compete for real-time business opportunities provided by socially-conscious corporations and government agencies.