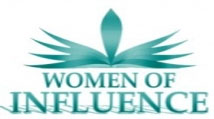 Martha Bartlett Piland was honored as the Outstanding Entrepreneur at GO Topeka's 2015 Women of Influence awards.
Selection criteria for the award: A female entrepreneur who strives to build a great company and contributes to the success of other women. She has experienced business growth and is involved in her community.
"Entrepreneurship is in my blood," says Martha. "It began in middle school when I started a ballet class business, teaching the neighborhood girls. Later, I became a record-breaking Girl Scout Cookie seller. (The Augusta Daily Gazette even published a photo of me selling cookies to the mayor: an offer he couldn't refuse!)"
"When I joined Heartland Health as its marketing director, I created a marketing department from the ground up for the fledgling startup. Founding MB Piland Advertising + Marketing in 1998 was a natural progression."
A longtime community volunteer and advocate, Martha has been involved with many organizations including Leadership America and Leadership Kansas. She's served as community-Wide United Way Campaign Chair and on many boards such as Topeka Civic Theatre, Topeka South Rotary, Washburn School of Business and Youth Entrepreneurs to name a few.
She is also a sought-after speaker, addressing local, regional and national audiences.
Martha's rules for every entrepreneur:
Surround yourself with smart people.
Never believe you can't do it.
Be a person of integrity.
Bring treats (ask her why).
The Women of Influence Awards, sponsored by GO Topeka's office of Minority and Women Business Development, are in their second year. Martha is proud to be recognized along with the other outstanding women who were selected:
Martha sells Girl Scout cookies to the mayor of Augusta. Photo from Augusta Daily Gazette.
Ms. Anita Wolgast—Community Service
Dr. Beryl New—Education
The Honorable Marla Luckert—Mentorship
Ms. Stephanie Heston—Rising Star
Dr. Brenda Dietrich—Woman of Achievement