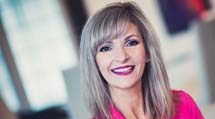 Martha Bartlett Piland was inducted into the Kansas Business Hall of Fame March 2. The honor recognizes those who have exhibited unparalleled leadership qualities, had proven business success and played an instrumental role in shaping the vision for a stronger community.
The yearly honor sponsored by Junior Achievement of Kansas, serves to recognize significant achievements of business people. It is also meant to offer an array of role models for the students Junior Achievement serves.
"I'm incredibly honored to recieve this recognition by Junior Achievement, becuase their work is so aligned with my own purpose to mentor and teach," Martha says. "Every day, Junior Achievement students are learning how to be entrepreneurs and intrapreneurs. That's workforce development so critical to a thriving community. I can't wait to see what these students go on to accomplish!"
The 2017 class of laureates also included:
Randy Austin of Fairlawn Plaza
Duane and Beth Fager of CoreFirst
Mike Worswick and DWitt Harkness of Wolfe's Camera
Don Landoll of Landoll Corporation
Print media coverage can be seen at these links:
Topeka Capital-Journal
March 2, 2017
March 4, 2017
TK Magazine
Spring Issue