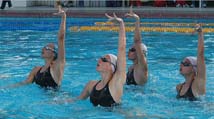 Rapidly growing companies are moving fast. Some are kicking furiously in the Shark Tank. Others are trying Lean Startup methods to evolve their brand or launch something new. They're pivoting, exploring and trying to propel ahead.
The changes can be fast and furious—and often so outwardly focused—that attention to the internal brand may atrophy.
Whether a company is in high-growth mode—or wants to be—aligning the internal and external brand strategies will take it much further...even when the waters get choppy.
Internal/external brand alignment. Purpose is at the center.
(click to enlarge)Get synced
Brands with a strong internal culture are the ones practicing and honing their underwater skills. They're making sure that the brand messages on the inside are so well-rehearsed and ingrained that the messages going OUT are world class.
Here's an example of how one well-synced brand might look. (Click the image to the right -->)
See how internal brand activities support employees and help them live the brand being promoted to outside audiences. This is just a sample—but it may help guide your own brainstorming about how to get in sync.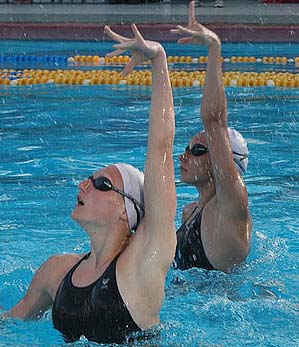 Photo courtesy WikiPedia: Jesus de BlasDon't try to go solo
Anyone who's watched synchronized swimming knows that every person on the team must be perfectly coordinated with everyone else. They need precise timing and endurance—and it's never a solo effort. No one person can outshine the others.
Swimmers with different roles like Flyer, Base or Pusher work together for what looks like a seamless presentation. Fans see mostly what's happening above the water and they're mesmerized.
But what's happening under the water—out of sight—is the power that wins the competition.
Stay in touch. Sign up for our monthly enews.