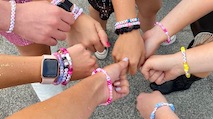 A Marketing Mastermind
"What if I told you none of it was accidental?"
That's a line from Taylor Swift's song "Mastermind," and when it comes to her marketing efforts, she and her team have proven it to be true. Swift has shown an acute understanding of her fans, how to connect with them and how to generate fierce loyalty. I recently attended the Eras Tour myself and witnessed firsthand the exceptional customer experience.
Innovative Marketing Tactics … Ready For It?
There's no question that Swift knows how to captivate an audience. But what really makes her one-of-a-kind is her ability to elevate the fan experience. For example, at each Eras tour concert, audience members are given a bracelet that lights up once the show starts. The bracelet changes colors and speeds at different intervals, creating a light show that each fan is immersed in.
There's also the wildly popular element of the "surprise songs" at each performance. Swift sings two songs that weren't included in the setlist and can't be repeated at other shows (with a few exceptions). This adds an extra layer of anticipation and feeling of exclusivity to each show.
The success in her efforts can be seen in the demand for the shows and the devoted fan base known as Swifties. You can also see it in the palpable fear of missing out (FOMO) among those unable to secure tickets or those who now regret not attending, curious about the tour's hype and what they've missed.
In Action:
Marketers can enhance their own customer demand and brand loyalty by finding ways to create anticipation. Build suspense through campaign sneak peeks, Easter eggs and subtle hints at new offerings to make the brand more fun and exciting for customers.
Try your own version of "surprise songs" by creating experiences that customers need to be there to enjoy. For example, a local boutique in my city hosts VIP events that offer discounts in the store only during the party. This makes you feel like you're part of a special circle and can create FOMO for those unable to attend, increasing demand for future events.
Building Community All Too Well:
One of the standout elements of Swift's Eras Tour was the emphasis on building community. Fans of all ages made friendship bracelets and wore them to the concerts to share and trade. This enabled them to connect with each other and create deeper bonds with strangers. This added another dimension to the show for fans to share on social media.
In Action:
Marketers can adopt a similar approach by fostering a community around their brand. Find ways for customers to connect with each other through their mutual love of your brand and transform them into advocates for your company.
A few ways to put this idea into action:
Encourage fans to share their own unique spins on how to use or wear your product. Here's an example from BCBG's Insta using a mix of models, influencers and customers.
Form loyalty programs that offer consumers something meaningful and make them want to tell others about it.
Create a social media challenge that is fun for fans to engage in and do with each other.
Share your personal "Why" behind using your product and encourage customers to share theirs too.
Whatever way you choose to build your community, be sure it aligns with your mission and makes sense for your brand.
Making the Audience Feel Seen and Heard: No Bad Blood Amongst Swifties
Swift has an incredible ability to make each member of the audience feel seen and heard. She takes the time to address the crowd, tell personal stories and interact with her fans. For example, at the show I attended, she messed up the lyrics on one of the "surprise songs" (more than once). She laughed at her mistake and shared with the audience why that particular song was one of her favorites and that she couldn't believe she'd messed it up. This moment stood out to me as it made her more relatable and made me feel more connected with her.
In Action:
Marketers can adopt this strategy for building connections by letting customers see the people and faces behind your company.
A few ways that you can do this:
Use social media to share customer success stories so others can identify themselves in your brand.
Give customers a "behind the scenes" tour or look at how your product is made. A great example of this from Civium Architects can be seen here.
Show off how your company lives out its mission statement. For example, if part of your mission statement is to better your community, share how you're doing that.
Delivering Value: Enchanted Audiences
Swift performed at the Eras Tour for an impressive three and a half hours, ensuring that fans felt they got what they paid for and more. This commitment to providing value is a crucial lesson for marketers. It's essential that what the customers receive matches up with the price they pay.
I frequently hear people say that the Eras Tour was "life changing" or "a once in a lifetime experience" but have never heard anyone say, "that concert wasn't worth my time or money." Swift and her team made a conscious effort to build in elements to make this concert unlike any other.
In Action:
Be sure you are evaluating your own products with this customer-centric mindset. Show them how your product meets and exceeds expectations, how your product specifically serves a purpose or solves a need for them and why it's worth the price.
A Well-Rounded Brand: She Really Does Make The Whole Place Shimmer
Swift's success as a musician extends far beyond her quotable lyrics and captivating performances. She has managed to build a well-rounded brand that resonates deeply with her fans. You can see this in the way fans come dressed like her to her concerts, emulating her iconic style, colors and different looks across the album eras. The whole stadium is filled with shades of lavender and pink, sparkles, wavy hair and boots (all trademarks of Swift's style).
In Action:
Marketers can learn from this by understanding the importance of brand consistency and creating brands that engage multiple senses. When customers feel a strong connection to a brand's values, personality, and visual identity, they become more invested overall and become powerful ambassadors. By ensuring every internal and external touchpoint reflects the brand's identity, marketers can cultivate a devoted following.
I hope you think about these tips
Taylor Swift's Eras Tour serves as a masterclass from the mastermind herself in customer experience. Whether you identify as a Swiftie, couldn't name a single T-Swift song or fall somewhere in between, all marketers can stand to learn from the success of the Eras Tour. Try out these actionable steps, and as Swift might say, watch as loyal customers flock to you like dominoes cascading in a line.
Note: anything written in pink is a lyric from or song title of a Taylor Swift song.
---
For another article on customer experience, see our blog post: Friction leads to frustration: 3 simple fixes to improve customer experience.
If you need an advertising agency that can help your company with innovative marketing and customer experience, give us a call. Contact Martha Bartlett Piland direct: 785.969.6203 or This email address is being protected from spambots. You need JavaScript enabled to view it.