Special blog submission by Moriyah Ramberg
I was lucky enough to be selected for MB Piland's internship program this summer. Now that I've had time to reflect on it, I'd like to share tips on how to make an internship a valuable experience for both boss and intern, starting with the first day.
1. Provide an orientation
Start the day off with taking a tour of the office to show your intern where things are and how they work. Things such as scanning or printing might seem like a given to you but there's a fair chance your intern needs help getting accustomed to your xerox machine.
On my first day I was provided with a folder, after being given a tour of the office, that listed all my duties and job expectations, which gave me a good starting point as to where to begin.
2. Make sure your interns know they can ask questions
This tip might seem like a given, but young adults who have never worked in a professional environment might be scared to ask questions in fear of seeming unknowledgeable or unprepared for their job. This might result in an intern doing a job incorrectly, resulting in extra time for both of you to fix mistakes. Assuring your interns that questions are valid as well as expected will give them the confidence and skills to do their job correctly.
3. Be open to their ideas
You know the ropes of your trade and have a much greater level of experience than your interns, but that doesn't mean they don't have valuable input. Encourage your intern to express his or her ideas. You might be surprised what a fresh viewpoint and different outlook can bring to the table.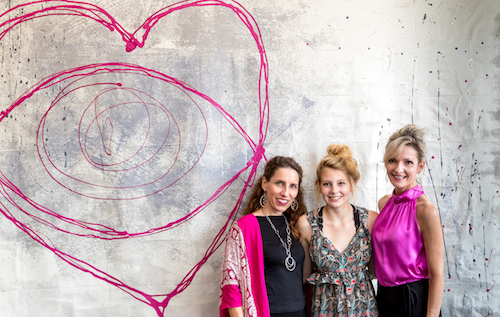 (from left to right) Alexandra Reilly, Moriyah Ramberg, Martha Bartlett Piland in front the mural they created as part of See the Good, a special pop-up First Friday Art Walk exhibit
During my internship I was encouraged to provide input and creative ideas which made me feel like a part of the team and a valuable member of the company. I even led a major project for the company during my internship, a great learning experience in addition to being a resume builder.
4. Make the workplace welcoming
Being the newbie at work can be an intimidating experience. We've all been there. Although you don't want a completely lax work setting, let your interns know they are welcome and that you are glad they are there.
On my first day at MB Piland I was given a gift with a welcome card and my favorite candy. A small gesture such as this will make your intern feel appreciated and will do wonders for productivity and good work.
In my experience giving your intern the tools needed to succeed from Day One will make an internship smooth sailing for both boss and intern. With these four tips in mind, your intern's first day—and internship—will be a rewarding experience.