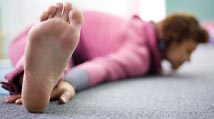 "Frankly, some women's bodies just don't actually work [for Lululemon yoga pants]" famously said Chip Wilson, chairman of Lululemmon.
There's only been an "I'm sorry I'm not sorry" from Chip.
In the meantime, customers are storming away, employees are mortified (probably looking for employment elsewhere) and the company's brand ambassadors are speaking out. Loudly.
Yesterday's article in the Huffington Post from a former brand ambassador rakes the company over the coals. Chip Wilson Can Kiss My Fat Yoga Ass: A Lululemon Ambassador Speaks Out is just one account of the harmful comment—and how the company has been treating people on the inside all along.
It looks like there's been a culture of group think, finger pointing and nastiness for quite some time. What does this mean?
A toxic internal brand just pours gasoline on an already spreading fire.
Everyone makes mistakes. People forgive. As my husband is fond of saying, "if we were perfect, no one could afford us." But Lululemon has had numerous problems with defective (and very expensive) products: pilling pants, see-through fabric and more. And they never seem to be sincerely sorry.
What's a CEO to do?
Chip and his leadership team could have apologized to customers and addressed the issues head on. They might have been forgiven if they'd have gathered people around the proverbial campfire by:
MB Piland Friday staff workout: healthy inside and out!
asking brand ambassadors for help with product development and field testing
asking brand ambassadors to champion the product improvements to their fans
working with suppliers to engineer better raw materials
giving employees the tools for quick, easy exchanges and an "I'm sorry" gift
providing all internal groups free product to give away
Instead, Chip blamed others for the problems and offended pretty much everyone.
This wasn't the first of Chip's missteps and I'm sure it won't be the last. Now that the beleaguered CEO has been replaced, we can hope for better things from the company. Or can we? He'll still be on the board.
It's reported that former Toms Shoes president Laurent Potdevin will step in as CEO. Let's hope his experience leading a purpose-driven, well-aligned (and diplomatic) brand can raise Lululemon from the ashes.
---
Keep up with our thoughts on creating a well-aligned brand from the inside out. Subscribe to our enews here.

Tags: internal brand, corporate culture, employee engagement, brand ambassadors