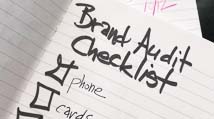 Keeping your brand aligned means regularly auditing everything that tells your story. When you evaluate advertising and PR messages, you should never overlook the many other things that speak loud and clear.
Here's a starting checklist of additional things to monitor for your public-facing brand:
after hours phone greeting and on-hold music: the last time you phoned and listened was...? It's probably been ages. Call. Listen. Update.

email sig: this is free advertising! Is everyone in your organization using the same format that builds your brand? This is no place for individual flair and comic sans.

reception area: customers, delivery people, suppliers and many others are there every day. How are they greeted, and what do they see, smell, hear, touch and taste? Do all their senses perceive the brand message you're trying to convey?

restrooms: the cleanliness, lighting, tidiness, decor and maintenance of your restrooms sends a clear signal about how you manage other aspects of the brand. This is for everyone, not just restaurants.

business cards: stop giving people crummy business cards. Use good paper and quality printing. A thin, dog-eared card makes it look like you don't care about your people or who they serve. (More on your people next week.)

fleet graphics: your fleet should be clean, shiny and looking sharp. Vehicles are roving billboards that make a powerful impression for better or for worse. Bonus points for having safe, courteous drivers.

swag: get rid of those mugs, pens and coozies with your old logo. I know they cost money. But continuing to pass them out dilutes your brand equity. Donate them to a charity in another part of the world where you don't do business. Or toss them. Now.

signage: there's a professional services firm in our neighborhood that does some amazing work. Sadly, their outdoor sign is partly obscured by shrubbery and their logo is peeling and faded. Though many of their clients are out of town, the locals may perceive that this company is struggling. The world is too small to let people think you're anything but prosperous.

parking lot: freshly painted stripes and "welcome visitors" or "reserved for hard-working moms" signs make people feel good. They make a first impression—or repeated impression—about how you feel about the people coming to see you.

social media: besides your Instagram, Facebook and the other usual suspects, take a look at review sites, online yellow pages listings and employment sites. Is your logo current? Have you claimed and populated accounts with good information? Google yourself and look past the first few listings. Dig in and find out what needs attention.
everything speaks
Make sure your messages are in unison.
---
We can help you with an in-depth brand audit. Want more ideas? Schedule a call here.