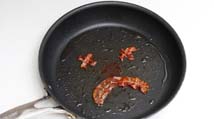 Twice this week, I've selected a menu item specifically because it was supposed to have something dear to my heart on it. Bacon! Both times, bacon was missing. It got me thinking about the way I felt, and how brands can disappoint their people in a similar way.
I didn't want to ask
These were business lunches. I was there to focus on the people with me, not on tracking down a server to make my order right. I didn't want an "incident" so I kept quiet.
Were they out of bacon and afraid to let me know when I ordered it? Did they just forget the bacon altogether? Of course it wasn't the end of the world. But my feelings about both of those restaurants are a bit bruised.
What's your "missing bacon"?
The missing bacon in your organization might be the forgotten customer service follow-up or the hastily packaged product that looks like it's past its shelf life. It's anything that leaves an internal or external customer disappointed, yet hesitant to speak up.
Those issues are easily remedied with training on proper procedures, cross-department communications and a "this is how our brand serves every customer" mantra.
Bacon and switch?
It's OK to cut fat from your organization, but are you slyly trying to cut out the bacon? Saving a little money at the expense of the client—or worse, offering a cheap substitute—spoils the brand's equity.
Some short-term gains may be realized, but over the long term, customers drift away. Great employees leave. Even if they don't complain, they notice. Trust and loyalty disappear, and so do profits.
The bacon is the special ingredient customers look forward to enjoying. They seek it out. They often are willing to pay more for it. Be sure your brand delivers sizzle every time.
---
Need help finding out if your brand is bringing home the bacon? Call Martha direct at 785.969.6203.
tags: brand loyalty, employees, profit, ROI, training, customer service