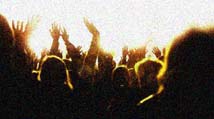 Wikipedia calls crowdsourcing "distributed problem solving: assigning a problem to a large group of people to mine collective intelligence." Many companies use crowdsourcing for product development. Dorito's has famously used it for commercials in the Super Bowl. Is it for you?
Prospecting on the down low
Are you stuck somewhere? You may not be ready to let the masses work on an assignment for your company—especially if you're in a rapid growth environment where you can't tip your hand to competitors or other outsiders. But a modified approach to crowdsourcing is right under your nose. Try it with internal audiences—employees, board of directors or suppliers—instead.
24K ideas
With crowdsourcing, many participants are only partially familiar with your business or your challenge. So there's a lot of sifting to be done because the crowd can deliver volumes of dirt and gravel that has to be thrown out before the nuggets are discovered.
But if you start with internal audiences, you may come to some brilliant EUREKA! moments sooner. Internal audiences are working from a rock-solid foundation of brand knowledge.

You could be stuck because you're asking the wrong questions. Internal audiences may change the question. They'll have a different perspective and can help reframe or refocus to get at the heart of the matter.
Other advantages of asking internal customers:
Employees are in closer contact with customers

They can be your eyes and ears. They hear about needs, they understand frustrations and probably already have ideas. They want to help move the company forward. This can be substantive, rewarding work.
Suppliers are in contact with others in your industry
They know about trends from a different perspective. They know where the bodies are buried. They can be a great resource if you ask and listen.
Directors have a valued network and other business experiences to bring to the table
They can help cross-pollinate by bringing outside ideas and helping reshape them into something relevant to your business.
Start panning
Always state the desired objective. Provide a time frame and a budget. Share the vision, then get out of the way. Resist the urge to micromanage or impose too many rules. Encourage and reward upside down, inside out thinking.
Here are some ideas to get started:
Create a cross-department innovation team for ongoing work. Include people from all levels and departments. Assign them one "big idea" per month supporting the objectives. Have a kick-off meeting, then let them go to work.
Build in some competition. Ask for multiple teams to work on the assignment. Cultivate friendly rivalry and team spirit—then idea swap and have each team take the others' ideas to a new level.
Design a contest for a specific assignment: use your company intranet and other internal communications tools to announce and promote the contest. Be clear that everyone is encouraged to participate. Set the ground rules and offer a great prize.
Create virtual work groups on specific challenges using a collaboration tool like Basecamp. This works especially well for suppliers or directors who don't have a daily presence in your office, or for employees working in different locations.
Bold rush
High growth companies know fortune favors the bold. You've got a depth of talent and brains inside your company. Rush forth to harness that power. You'll see increased internal engagement and love for your brand—and stronger performance at the bottom line.
Stay in touch. Subscribe to the MB Piland monthly enews here.