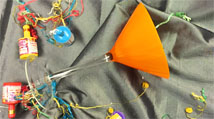 Employee appreciation events are usually born of good intentions. But somewhere in the planning process, committees and "have tos" suck out all the fun faster than a Dyson Ball. Here are 4 ways to make your event a rousing success.
1. say thank you, and mean it
At an employee event we coordinated recently, the CEO went to the front of the room and made a special thanks to the employees for all their work on achieving a major milestone. She reinforced her thanks by speaking about the mission and purpose of the organization—and made sure everyone knew their critical role in the work they do together.
During the informal times of the event, she mingled throughout the crowd to speak individually to employees and thank them one-on-one. Everyone left that event knowing they were valued and appreciated.
Saying thank you doesn't cost anything—and it speaks volumes.
2. make it easy for them to attend
The lunch event noted above was a come-and-go format spread over a few hours that allowed employees to attend at a time that worked best in their work day. Though it meant that the CEO was away from her office for an extended period, the flexibility showed that she respected employees' schedules.
At another event held in the evening, the host provided child care at the party site so employees with young children didn't have the hassle or expense of hiring a baby-sitter. The positive feedback on this small touch was overwhelmingly positive.
MB Piland has a traveling sheriff badge and tiara for lighthearted employee recognitions.
3. make it mission-centered
Whether you're a nonprofit, a business-to-consumer brand or a business-to-business brand, you should have a meaningful mission linked to your work. Use the employee appreciation event to underscore that.
What's your brand about?
If your brand is about fun, be sure the event is fun for employees, too.
If your brand is about health, make sure that your event isn't at odds with what you promote and sell.
If your mission is innovation, bring in some special touches that allow creativity or new exploration.
4. make it thoughtful
Leave the hams back in the '70s. Employee gifts should be something that people will really welcome and enjoy. Remember, it's about them, not about you.
Branded company swag will be welcome if it's high quality and well chosen. You can also offer gift cards and cash prizes. Even in small amounts, they're nice "extras."
Consider creating some special awards with unique names that reflect your culture. One organization we know presents "Sparky Awards" at its annual meeting. They're merely an announcement (no special plaque). But the praise is so cleverly written and presented for each honoree at this meeting that those who get a Sparky are glowing long after the event is over. A trophy is wonderful, but may not be necessary if the recognition is thoughtfully crafted and presented with some razzle-dazzle.
don't wait
Whether you're considering a year-end annual meeting, a holiday party or something else to thank employees, start thinking now. A memorable, well-branded employee event takes time. Devote careful attention to creating something people will look forward to eagerly, instead of hoping to merely make an appearance then sheepishly tiptoe out.
Wow them at your event so next time around, everyone will be clamoring to RSVP.
---
Need help creating an employee appreciation event that's wildly successful? Call Martha Bartlett Piland (direct) 785.969.6203 for help.
tags: internal brand, culture, training, employee engagment, loyalty, employee appreciation events