Team Tomato has 50 ideas. Team JuJube has 65. The competition is on overdrive and the company reengineering is well on its way... or is it?
A friend just gave me the lowdown on the year-old effort at her company. It's grinding to a halt.
What had started out strong, with great excitement and enthusiasm—including team names, friendly competition and signature snacks—is rapidly losing momentum. It may sputter to a dead standstill soon. I predict that management won't notice the standstill until some time after it's actually occurred.
What happened?
The mistakes I see from an outsider's perspective:
Management asked for ideas and opinions, but has rejected a majority of them.
No explanation has been offered for why the ideas can't be implemented.
Many of the ideas submitted are in limbo: they've have had no response at all.


In fairness to the management, the sheer volume of ideas may have made it difficult to respond to each of them. Management may have delegated without success, or simply may have let time go by faster than they'd realized.
And though their intent was to reinvigorate their team and create an atmosphere of innovation, the actual result is people falling prey to ennui. Staffers are feeling their work was insignificant and unappreciated. From now on, fresh new ideas will be very difficult to cultivate.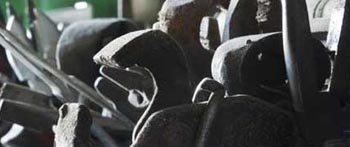 The reengineering machine is complex. Build it right.
Don't make the same mistakes
Here are some ways to keep innovation alive in your organization:
Create an innovation team—assemble the team from across all departments to combat silos.
Assign specific, clear criteria with goals and how they'll be measured—then make sure the entire team knows the responsibilities, the budgets and the timing.
Communicate—do it more than you think is necessary. Use multiple media so you can inform people in the ways they're most comfortable. Consider using your intranet, employee eNews, staff meetings, break room signage and social media to name a few.
Commit to being accountable—don't ask for ideas only to ignore them. They deserve a response. No rubber stamping of "not feasible" should be permitted.
Communicate some more—report back on number of ideas received, how many met the criteria and how many have made the short list for consideration. Tell what fine-tuning is underway. Thank all contributors.
Measure—once new ideas are implemented, measure their effectiveness and share the results.
Change is hard work. But beginning the process with a clear plan will ensure that the gears are properly aligned for significant innovations.
Sign up for MB Piland's enews here to receive monthly updates on smart marketing strategy.
TAGS: innovation, business strategy, internal culture, brand