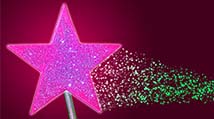 There's a lot of talk about how retailing—and other traditional business—is dead. And there's much hand-wringing and complaining about how those big online giants are unfairly hurting brick-and-mortar businesses.
While some of this pressure on physical locations is unavoidable, many retailers are driving their customers right into the arms of their online competitors.
Here are 3 IRL observations and how to create enchantment for your brand.
1. create a culture of YES
Last week, I was shopping at a regional grocery store for a particular spice I needed for a recipe. Directly behind me in the baking aisle was one of the store employees filling orders for online shoppers. So I asked her for help locating the spice on the nearby rack. She actually told me NO, she couldn't help me… that all she did was fill orders for online customers and she didn't know where anything was. I was so stunned, I couldn't even muster the questions: "why not?" or "is there someone else who works here who could help me?" I left frustrated.
She actually did a local retailer (and me) a favor. Because after this, I remembered there's a local spice merchant I could visit. There, I had terrific service and ended up buying more items than I'd intended. Kudos to Moburt's for creating a beautiful in-store experience and high-quality products I could touch, smell and see before buying.
what to do: Never accept an "it's not my job" mentality from employees. Train your people to say YES. Help them know it's OK to not know the answer, and to call in reinforcements if necessary. Teach them to say yes, and help them follow through.
2. arm employees with knowledge
At a local liquor store, (the same day) I needed a specific variety of wine: a Beaujolais. While this was a fairly large store, there wasn't a single bottle in the place, according to the person I tracked down to ask for help. He really tried to help me. He scouted through the store and looked at his computerized inventory list. To no avail.
Seinfeld is willing to endure abuse because the soup is so good. Most businesses don't have this luxury.While he was trying to be helpful, he had limited knowledge. If he'd known about different varietals, asked why I needed it (food pairing, recipe or simply drinking) and suggested alternatives he could have made this into a bigger sale and a repeat customer.
He sincerely wanted to help, but he didn't have knowledge of the inventory or the products themselves. He was at a disadvantage because his employer hasn't given him the training that would help him be powerfully effective serving customers—and selling.
what to do: You boost the confidence and value of employees when you train them on more than how to use your POS system. Let them be among the first to try new products, see how they're used and discuss them with peers. Take advantage of training offered by distributors or others in your industry. Increased employee confidence equals increased sales.
3. model a special brand of magic
Nell Hill's has it. Ash Boutique has it. They're the kind of click-and-mortar retailers that are much more than the sum of their parts. I call it Brandchantment.
Both owners and employees sincerely demonstrate their love for—and knowledge of—their products. Social media, websites and stores overflow with joy and love for the customers they serve—and also for the merchandise.
This bears repeating: there's palpable love for the customers, who truly come first.
Recently, I walked into Ash Boutique and the woman working there greeted me with "Hello, Martha. How was your trip to Jamaica? In case you didn't find the white jeans you were looking for, we have a new style in and you're just the right person to carry them off." Wow. Yes, wow.
At Nell Hill's, founder Mary Carol was known to regularly stroll the shop, striking up conversations with customers and sharing in their delight over a special find. While she sold the store a few years ago, her personality lives on in the new owners (and she still occasionally stops in to say hello to shoppers who have become her friends).
We expect owners to be great at creating stellar customer experience. (Unless they're the infamous Soup Nazi.) But in the case of these two, not only are the owners exceptional, they've modeled and trained employees to emulate their special brand of charisma.
Every brand touchpoint for these retailers is designed to make the shopping, the purchase and the take home experience joyful. Magical. And that's before the customer actually wears or uses the product.
what to do: Be exceptional. Be sure you're designing a unique customer experience from start to finish. Hire for, and model, the behaviors you want. Have lofty standards. Be the very best example you can be.
create enchantment for your brand
Whether you're selling products or services, your online competition is growing and it's nearly everywhere. Retailers, bankers, insurance companies, churches, theaters, restaurants: brand experience matters. What you can still offer—and it's hard for goliath to compete with—is exceptional, personal customer experience.
Offer transformation instead of transaction, and you'll prosper long into the future.
---
Building a better brand experience strategy with employees—and yourself—takes planning and intention. Start now so you have loyalty and profit tomorrow: This email address is being protected from spambots. You need JavaScript enabled to view it. Martha to schedule time to talk.