Can upset employees sell Forever?
Details

Created: Thursday, 22 August 2013 11:09
Written by Martha Bartlett Piland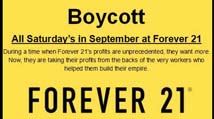 "Dear (employee), We're cutting your hours and your benefits. If you have questions call nameless HR person. Oh, and by the way, please keep selling our great products with passion."
That's my take on a leaked employee letter from Forever 21 as reported by Jezebel.